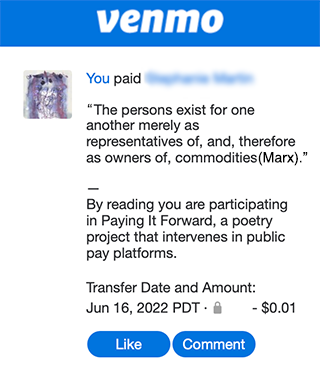 PAYING IT FORWARD
_CALL FOR POETS AND INTERVENTIONISTS: COMMISSIONS AVAILABLE
ABOUT
---
Paying It Forward intervenes in public pay platforms with poetry that comments on or critiques capitalism. You can get involved by writing and submitting poems about the dehumanizing effects of capitalism and/or adding poems to the message area of your public payments. Poems are commissioned and published on Venmo and Instagram.
SUBMIT POEMS & QUOTES
---
SUBMIT! Use this Google Form to submit an original poem or a quote about the dehumanizing effect of capitalism. The character limits are set in the form (165 chars for Venmo, 185 for PayPal, 50 for Cash). This Character Count Tool may be helpful. By submitting your poem you agree that anyone can post it to their social pay feed. By sharing your Venmo name you agree to receive a one cent commission for your poem.

On Theme The poems should be about Capitalism. Comment on it, critique it, love it, hate it, offer an alternative...quotes from philosophers who write about capitalism are welcome, too!

FREE/LIBRE By submitting you agree that your poem, like this project, will be published with a free license such as a Creative Commons license (see about this project).
PUBLISHED POEMS APPEAR ON VENMO AND INSTAGRAM,PRINTED EDITIONS FORTHCOMING IN 2023
INVITATION TO POST & PARTICIPATE
---
1. COPY A POEM
Copy a poem or quote from this Google Sheet (updated weekly) to distribute as the message or note when you pay someone in a social pay app. You can paste directly into your pay app or store a few poems in your favorite note taking tool so it's ready for you the next time you are ready to pay.Setting your payment to the public setting (image below) will make it visible to anyone reading your feed. However, be aware that making your payments public does open you to greater risk for spearphishing and hacking. Participate at your own risk. That being said, if you're already making public payments, why not make a few more with one-cent poems and then turn everything to private!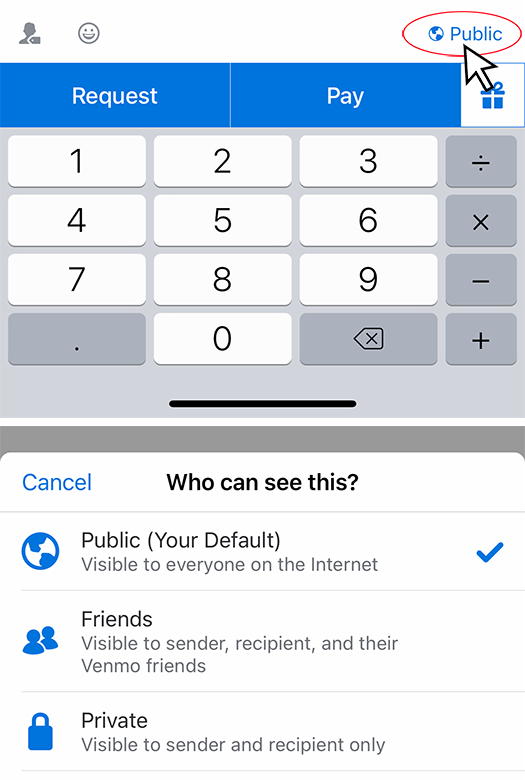 Click to change the setting on Venmo to public, friends, or private.
2. PASTE & SEND!
Whenever you Venmo a friend, or pay with PayPal, the Cash app, or other services, use the descriptive message or note area to distribute a poem from this collection. Each poem should be appended with the following 113 characters about the project:

—
By reading you are participating in Paying It Forward, a poetry project that intervenes in public pay platforms.3. SEND IN BULK & SHARE YOUR INTERVENTION!
Consider sending a poem to many of your contacts for the least amount of pay. For instance, you can share a poem on Venmo or PayPal in a transaction that costs one penny. Consider sending 25 friends an intervention on Venmo or PayPal! The Cash App sets its lower limit at one dollar, so this might be more of a Venmo or PayPal activity.
OPEN SOURCE
---
This is an open source project. All parts of it and poetry included must be either: original and licensed in a way that makes it free to distribute (such as a Creative Commons or MIT license). If you don't know about licensing or aren't sure, don't worry. There is a check-box for you in the submission form to make this part very easy!If you contribute a quote from a poem, please make sure it is no longer bound by copyright law. For instance, a quote from Karl Marx's Capital is "free" to use because the copyright laws pertaining to it have long since passed their expiration date. Any work published with a traditional copyright in the United States since January 1, 1978 is protected for the life of the author + 70 years. Countries have their own separate copyright rules.A little more about copyright/copyleft
Contemporary artists are working to counter the limitations of copyright by publishing their work with new and free licenses. This project is published with a CC-BY license, which is the most basic Creative Commons attribution license. That means anyone can distribute, remix, adapt, or build upon this work, even commercially, as long as the work itself is credited to the author/s for the original creation.
CC BY 2022